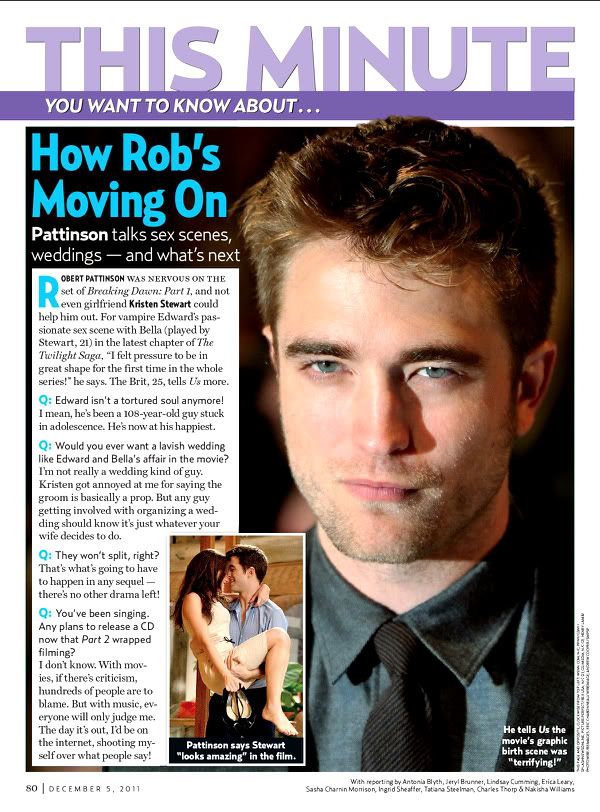 How Rob's Moving On
Pattinson talks sex scenes, weddings - and what's next
Robert Pattinson was nervous on the set of
Breaking Dawn: Part 1
, and not even girlfriend
Kristen Stewart
could help him out. For vampire Edward's passionate sex scene with Bella (played by Stewart, 21) in the latest chapter of
The Twilight Saga
, "I felt pressure to be in great shape for the first time in the whole series!" he says. The Brit, 25, tells
Us
more.
Edward isn't a tortured soul anymore!
I mean, he's been a 108-year-old guy stuck in adolescence. He's now at his happiest.
Would you ever want a lavish wedding like Edward and Bella's affair in the movie?
I'm not really a wedding kind of guy. Kristen got annoyed at me for saying the groom is basically a prop. But any guy getting involved with organizing a wedding should know it's just whatever your wife decides to do.
They won't split, right?
That's what's going to have to happen in any sequel - there's no other drama left!
you've been singing. Any plans to release a CD now that Part 2 wrapped filming?
I don't know. With movies, if there's criticism, hundreds of people are to blame. But with music, everyone will only judge me. The day it's out, I'd be on the internet, shooting myself over what people say!